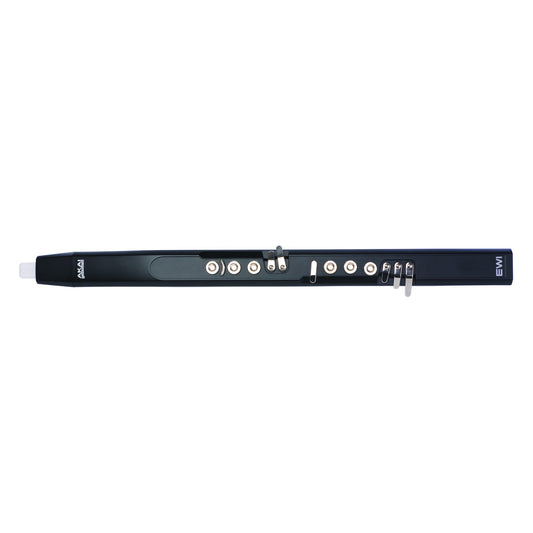 Electric Flute Akai EWI USB
The Akai EWI USB is an electronic wind instrument for musicians looking for an easy-to-play, easy-to-use set. Akai Professional's decades of experience in the field of electronic and wind instruments have been combined into the most user-friendly and most affordable EWI ever.

Akai Professional is the first name in the field of electronic wind instruments. For more than 20 years, Akai Professional has studied the art of playing the saxophone, clarinet, oboe, bassoon, and other traditional wind instruments, and developed electronic wind instruments that allow players to feel the possibilities. expressive control like in an acoustic instrument. Akai designed USB EWI to give players expressive musical capabilities that were previously only available on much more expensive instruments.
EWIs are the choice for serious players. While the EWI USB is easy and fun to use, it's also powerful, versatile, and most importantly, reliable for use on stage and in the studio by professional artists.
EWI USB is the most versatile EWI because it harnesses your computer to produce sound. The USB interface makes connection simple, and the included EWI USB software gets you quickly ready to practice, perform, create and record with a complete collection of wind instrument sounds. The Aria Player software is specifically made for use with USB EWI, providing players with an unprecedented level of expressive control.
You get over 75 different orchestral, concert band, jazz band and synthesizer sounds expertly recorded and programmed by Garritan, known for its surreal instrumental sound libraries.
EWI USB offers a variety of fingering modes including sax, traditional EWI, flute, oboe and EVI, so whether you're just starting out or a seasoned pro, you'll find USB EWI easy to play. EWI USB is designed for you to spend your time playing music
Historically, electronic wind instruments have been divided into two different categories: Basic instruments and high-end, professional toys. EWI USB breaks the price barrier, delivering professional quality, expressive control, and a studio-ready sound library at a price the world of professional wind instruments has never seen.
Outstanding features of the Akai EWI USB Electric Flute.
Electronic controller
Easy to play, easy to use and easy to own
Powerful, flexible and reliable
Plug-and-play USB connection to Mac or PC
Custom Garritan Aria Player software, contains wind instrument sounds
Multiple fingering modes: sax, traditional EWI, flute, oboe and EVI
Expandable Soundboard
Detachable mouthpiece, safe and convenient to clean
Specifications of the Akai EWI USB Electric Flute.
Sensors
Mouthpiece: Air-pressure level sensor & bite sensor
Note Keys: 13 touch sensors
Octave Rollers: 2 mobile, 2 fixed touch sensors (5-octave range)
Bend Plates: 2 touch sensors
Ground Plates: 2 touch sensors
General
Class-compliant, plug-and-play USB device
MIDI Output Channels Over USB: 2
Mac and PC compatible
Hardware
Dimensions: 23 1/8" x 2 3/4" x 2 3/4"
Weight: 1.3 lbs
Power: ~100mA, 5V via USB
Terminals: 1 slave connector (MIDI over USB)
Shopping guide
Reasons to Buy at Viet Music