Casio CDP-S360 . Digital Piano
Regular price
18.700.000₫
Express yourself with timbres and rhythms that suit all styles of music
Slim body design with a depth of only 232 mm
Simple but elegant
CASIO's proprietary high-density coupling technology with miniaturized parts and space-saving construction inside is the key to this piano's slim body. A bold, monochromatic palette, combined with a minimalist, aesthetic design provides a simple yet elegant piano experience.
Always by your side whenever you want to play music
The CDP-S series is compact, lightweight, and extremely portable. Since this series can operate on AC power or run on batteries, you can play your music wherever you want.
Simple and intuitive operation
The CDP-S360 has a simple interface, not too many buttons, an easy-to-read backlit LCD display and an intuitive dial that makes choosing tones and setting easy.
700 high-quality, preset tones
A total of 700 high-quality tones are preset as standard, ranging from keyboard instruments such as grand pianos, organs and harpsichords, to string instruments, wind instruments and percussion instruments, allowing for stylish performances. rich with just one keyboard.
Pitch knob for enhanced expression
The pitch knob allows you to change the pitch manually, adding a subtle touch to your performance.
App Chordana Play for Piano connects the Casio CDP-S360 digital piano:
You can control Casio CDP-S360 . digital piano seamlessly from the free Chordana Play for Piano app for smartphones and tablets. Quickly and easily change settings such as timbre, pressure sensing, and metronome. The App also includes famous piano sheet music so that users can practice directly on the music, turn the page with 3 pedals of the flexible piano.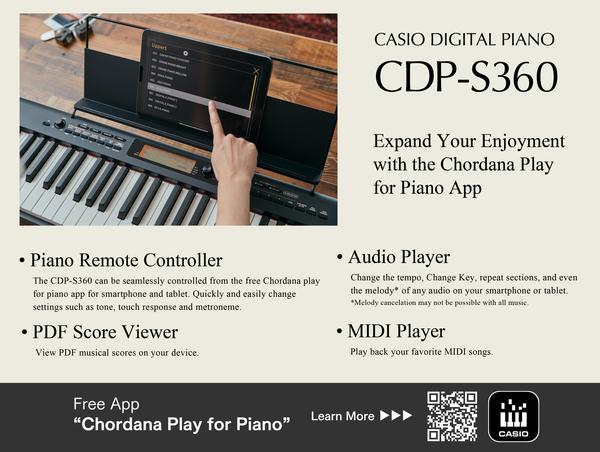 Shopping guide
Reasons to Buy at Viet Music