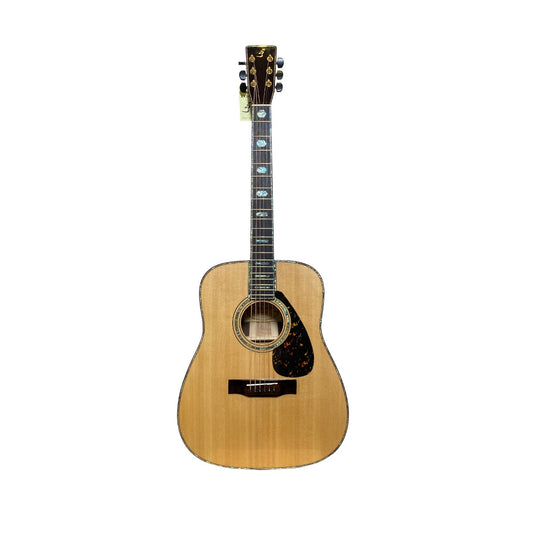 D1500 Acoustic Triple Guitar
Regular price
15.500.000₫
Ba Don D1500 is a custom series model - produced in limited quantities.
- Made from the finest materials.

From wood materials to strings, buckles... Ba Don D1500 is made from the finest selection of materials.
Ba Don D1500 is a guitar with high quality wood. The design is also extremely beautiful with very eye-catching painted wood trims.
The entire guitar from the top, back, sides and neck is made from selected solid wood. The use of high-grade wood helps the guitar have a sound that makes listeners fascinated, and the longer it plays, the better it sounds.
- Long-term use, for all purposes.
Owning the Ba Don D1500 , you have the perfect guitar for every stage, from the very beginning of practice, you have a good guitar, helping to bring the most delicate tonal ability. Until the stage of semi-professional play or theatrical performance... Ba Don D1500 can best meet the requirements of sound, keyboard... Not only that, this can also be considered a collector's item. because it's not mass-produced.
- Prestige warranty.
The instrument is warranted for 1 year, especially renewed in the first month if there is a manufacturer's fault. Usually the error rate of a guitar is extremely low, almost none because before it is shipped, the guitar has gone through many stages of testing. However, if the herd is at fault, you are renewed for the first month. If the error arises later, the guitar is warranted for 1 year with details about the keyboard, the key, the wood.... to ensure the customer a good playing instrument.
Detailed parameters of Ba Don D-1500 guitar.
Origin: Vietnam - Hadmade
Style: EASY
Top: Solid Cedar (solid wood)
Back & Hips: India Rosewood (full-grain wood)
Head & Neck: Mahogany Wood
Bridge & Keys: Ebony
Strings: Elixer
Key: Japan
Adjustment Need: Yes
Warranty 12 months
Free full accessories: Leather case, Capo, Pick key, Adjuster lever, Spare cord
Shopping guide
Reasons to Buy at Viet Music