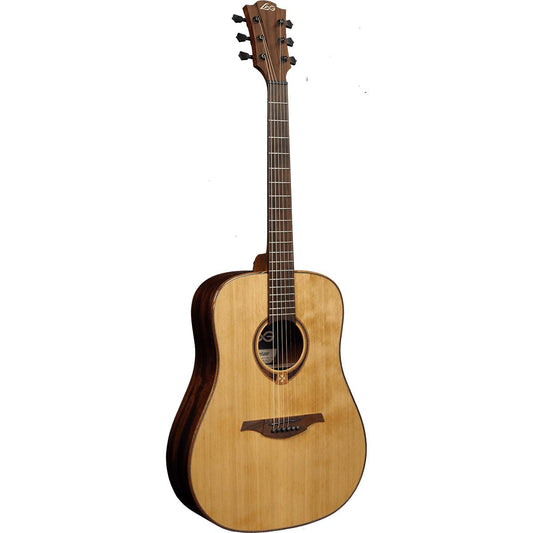 Acoustic Guitar Tramontane T118D
Regular price
11.200.000₫
Lag Tramontane T118D.
Thanks to a Khaya body and a red Cedar top with warm, balanced tonal characteristics, the T118 dominates the price segment. The Tramontane 118 series is available in a variety of finishes, with or without cutouts, to satisfy every musician's need in search of a versatile instrument.
Detailed specifications of Tramontane T118D Guitar.
- Back & Sides : Khaya
- Bridge : Brown Brankowood
- Category : Steel String Shaped Body
- Colors : Natural
- Dimensions (mm) : 1070 x 480 x 140
- Fingerboard : Brown BrankoWood
- Finishing : Glossy
- Format : Dreadnought
- Hardware : Satin black
- Nbr of strings : 6
- Nbrs of frets : 20
- Neck : Khaya
- Nut : Black graphite wedge / 72 mm & 43 mm
- Nut Width : 43 mm
- Original Strings : Bronze 80/20 Light 12-53
- Radius : 350 mm
- Scale (mm) : 650 mm
- Strings : Metal
- Top : Solid Red Cedar
- Truss Rod : Double-action
- Tuning pegs : Die cast, ratio 1:18
- Types of frets : Medium Silver Nickel
- Weight (kg): 3.20 kg
Shopping guide
Reasons to Buy at Viet Music